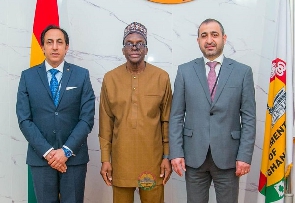 Mon, 27 Feb 2023 Source: Latex Foam Ghana
The Speaker of Parliament, Alban Bagbin, has called for stronger collaboration between Ghana and Lebanon in order to promote the development of the two countries.
He said it was important for the two countries to build a strong partnership in areas of mutual interest to enhance the living standards of their people.

Mr. Bagbin made the remarks when he received a delegation of parliamentarians from Lebanon and the Lebanon embassy in Accra at his office in Accra.

The Lebanese delegation comprised the Lebanese Parliamentary Friendship Association led by its President, Ghassan Attallah.

It also had the Lebanese Ambassador to Ghana, Maher Kheir.

The visit was to strengthen relations between Ghana and Lebanon's legislatures by sharing experiences and learning from each other.
It was also to discuss and exchange ideas on matters of mutual interest such as trade, tourism, economic issues, health, and education.

Mr. Atallah expressed excitement about the Lebanese diaspora's contribution to Ghana's economic development and acknowledged Lebanon's support for its diaspora worldwide.

He lauded the Lebanese diaspora in Ghana for excelling in various fields and maintaining close ties with their native country by showing a sense of readiness to step into their country.

He encouraged both nations to intensify their efforts and join hands to achieve the best possible outcomes for Ghana and Lebanon, highlighting the many similarities in the histories of the two nations.

"Both countries share a message of democracy and peace, for which they have actively worked and continue to sacrifice," he said.
To further strengthen the partnership, Mr. Atallah extended an invitation to Mr. Bagbin to visit Lebanon "and discover its beauty".

Mr. Kheir indicated the need for both countries to continuously build on their common effort to develop through collaboration in a particular trade, cultural exchange, and education to realize their aspirations.

The delegation presented the Speaker with a souvenir as a piece of Lebanon's rich cultural heritage.
Source: Latex Foam Ghana