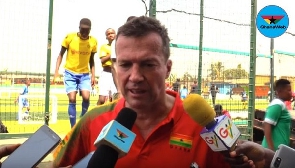 Former German football star Lothar Matthäus has made headlines once again, this time as he was unveiled on Tuesday, May 23, 2023, as a shareholder of Ghanaian football club, Accra Lions. The renowned midfielder, along with Ghana international Frank Acheampong and football agent Oliver Konig, have joined forces as co-owners of the club. Let's explore five key facts about Lothar Matthäus.
FIFA World Cup triumph

Lothar Matthäus played an instrumental role in Germany's success at the 1990 FIFA World Cup held in Italy. As the team's captain, Matthäus showcased his exceptional skills and leadership, guiding Germany to the tournament's pinnacle. This victory marked a significant achievement in his illustrious career and solidified his reputation as one of the greatest midfielders of all time.

FIFA Ballon d'Or winner

In 1991, Matthäus was honored with the prestigious FIFA Ballon d'Or award, recognizing him as the best football player in the world. This esteemed accolade acknowledged his remarkable performances and consistent impact on the field. Matthäus' exceptional vision, passing ability, and versatility earned him this remarkable achievement.

Extensive international career
Lothar Matthäus enjoyed an illustrious international career, representing the German national team with distinction. He holds the record for the most appearances for the German national team, having played in 150 matches and scoring 23 goals. Matthäus showcased his exceptional talent and dedication to the sport throughout his international career.

Successful club journey

Alongside his international achievements, Matthäus achieved notable success at the club level. He played for renowned clubs including Borussia Mönchengladbach, Bayern Munich, Inter Milan, and others. Matthäus claimed numerous domestic titles, including several Bundesliga championships and European trophies during his illustrious club career.

Versatile midfielder and football icon

Lothar Matthäus is widely regarded as one of the most versatile and influential midfielders in football history. His ability to control the game, read the play, and contribute both offensively and defensively set him apart. Matthäus' exemplary skills, leadership qualities, and enduring impact on the sport have cemented his status as an icon of the beautiful game.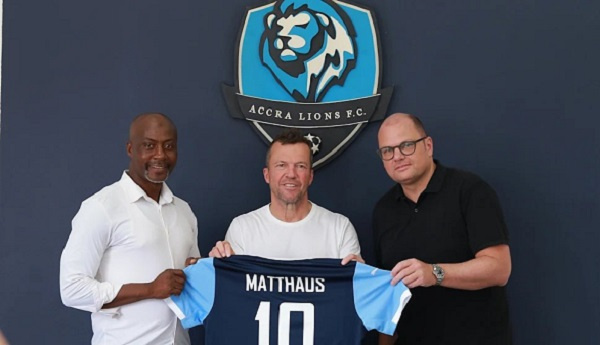 With Lothar Matthäus now joining Accra Lions as a shareholder, his vast experience, football acumen, and winning mentality are poised to make a significant impact on the Ghanaian football scene. Alongside Frank Acheampong and Oliver Konig, Matthäus will contribute to the club's growth and aspirations, bringing valuable expertise to the table.

As Accra Lions embraces this new chapter, football enthusiasts and supporters eagerly anticipate the positive influence and guidance that Matthäus, Acheampong, and Konig will bring to the club. Their combined knowledge and passion for the sport are set to propel Accra Lions to new heights, promising an exciting future for the club and its devoted fans as well as for Ghana football in general.

GA/SARA