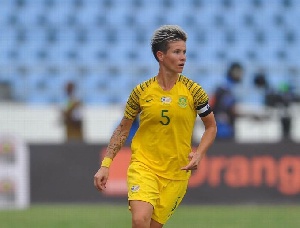 South Africa may be celebrating a first-ever FIFA Women's World Cup qualification, but they have their eyes very much on the Africa Women Cup of Nations title, in Saturday's final against arch-nemeses Nigeria.
Banyana Banyana ended two decades of heartache and near misses to claim their place at the global showpiece in France next year, following victory over Mali in Tuesday's semifinal.

But they can make another piece of history with victory in the continental final in Accra, Ghana, having won silver four times but never the gold.

Two of those final defeats, in 1995 and 2000, came at the hands of the Nigerians, once a feared opponent of Banyana but perhaps no more.

South Africa defeated the Super Falcons in the opening game of this year's tournament, when they won 1-0 in Cape Coast to get their campaign off to a positive start.

"Our next target is lifting the trophy and getting the gold medal around our necks. It is something that we are capable of. I honestly believe we can go all the way," Banyana captain Janine Van Wyk said.

"We are not going to walk away from this tournament without putting up a great fight in the last 90 minutes to perhaps lift that trophy.
"Nigeria is another tough battle ahead and it is something that allows us to make history once again."

Van Wyk admits that it will be a different ball-game when they clash with the Nigerians for a second time, with both sides having already played four games in under two weeks.

Fatigue, both mental and physical, will play a major role and it might be a case of which team can summon the energy to go all the way.

"We beat them in the first game and I don't think it is going to be the same type of game again," Van Wyk said. ?"In that first match we were fresh in the mind and physically ready, now having played four games already in the tournament it is going to be a tough match for both teams.

"We will have to see which team is hungrier on the day to grab that title."

Van Wyk, who was on Friday nominated for the African Women's Player of the Year by the Confederation of African Football, believes that past disappointments and failures are what has driven the team to success this year, and that on a personal level it is a major moment for her, a 150-cap veteran.
"It's very emotional for me, thinking how I got here and what it took to get here. It really wasn't easy. But it's been worth it," the former Houston Dash defender said.

"It's been a phenomenal journey, if it wasn't for all the failures and hardships I went through, I wouldn't be here talking about going to the World Cup.

"There were many times I thought I should just let it go and hang up my boots, but here I am. I'm proud of myself for not giving in."

Nigeria are hunting an 11th continental title, with Equatorial Guinea the only country to break the Super Falcons' stronghold on the title since the tournament was first played in 1991.