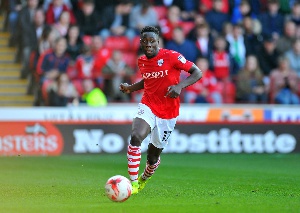 Barnsley head coach Paul Heckingbottom has labelled Huddersfield's bid for hotshot Andy Yiadom as "disrespectful".
The newly-promoted EPL side are believed to have offered £750,000 for the right-back, who was named in the Championship All-star team for the 2016/2017 season.

Barnsley have emphasized that they are not expecting less than £2m for the versatile player and the Terriers low bid for the Ghanaian has been seen as rude.

"It's [the bid] a bit disrespectful really," Heckingbottom stated. "We've received bids and they've been a million miles away from our valuation of Andy. "If they think Andy Yiadom is only worth what they've bid then Yids should be upset by it as well.
"In my mind he's one of the best full backs in the Championship and if someone wants to buy one of the best full backs in the Championship then they should have to pay the money for him.

"Like I've said we've not received any offers that are good money for him." Yiadom's deal with Barnsley expires next summer.