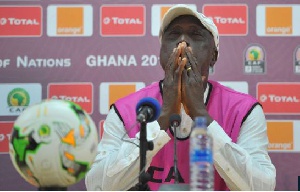 Former King Faisal Babies coach Mallam Yahaya has called on underfire Ghana women's national team coach Bashir Hayford to vacate his position.
The 60-year-old is facing criticism after the Black Queens failed to go past the group stage of the ongoing Africa Women Cup of Nations.

"I think Bashir Hayford should consider quitting coaching and become a technical director now," Yahaya told Zuria FM.

"He is more like a coach who is good with the theory aspect of the job but not practical. He should resign now.

"Players of today want coaches to show them how things are done on the pitch and not by only telling them the theories. Hayford can't do that for players now," he said.
"He is too temperamental and that doesn't help him. There was a time I faced his side [Ashanti Gold] in Ghana Premier League during my days as coach of King Faisal and one of his players made a mistake which led their defeat.

"After the game, I went to exchange handshake with the players but he shouted at the player why he was doing that with me. He felt that wasn't appropriate. If you can't control your temper as a coach, it will be very difficult for players to understand and work with you," he added.

Hayford boasts of two Ghana Premier league titles with Asante Kotoko and Ashanti Gold.