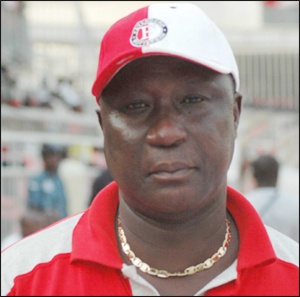 Coach Bashiru Hayford has stated that he will disgrace Kumasi Sports Journalists, who criticize him destructively when he finally clinches the league title with Ashgold by releasing the poor grades they had during their Senior Secondary School education.
Bashiru Hayford has been criticised by a section of the media of being a poor performer in the second round of every league season, with some suggesting to his employers Ashgold to part ways with him, because he can't annex the ongoing league title.

Although, the performance of Ashgold has dwindled a bit in the second round of the GPL, earning 19 points from a possible 36 points, as against 29 points from a possible 45 in the first round, Bashiru Hayford's charges have maintained their lead on top of the league log since match day one.

According to the former Kotoko coach, he is determined to pay back Sports Journalists especially the Kumasi based ones and already has the SSSCE results of 15 of them.
"I am collating all the secondary school results of Kumasi Sports Presenters who always insult me. When I win the league, I will release the list and their grades and shame them on air.

"I currently have the results of 15 presenters," Coach Bashiru Hayford told Fox FM.

Bashiru Hayford won the 2007/08 league as coach of Kumasi Asante Kotoko.