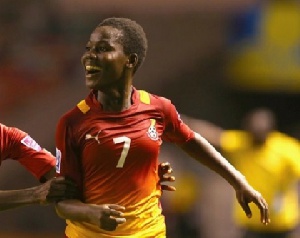 Black Princesses right back Ernestina Abambila says she is excited by the teams training tour of Spain ahead of the FIFA World Cup next month.
The team is expected to leave Ghana for a two weeks training tour of Spain as they continue preparations for the FIFA World Cup in France.

The Black Princesses have been training at the Ghanaman Soccer Center of excellence and ahead of the trip to Spain, Abambila has been sharing her excitement.

"I have not been there before. But it is such an opportunity for me to be there as a part of the black princesses team. We are under good preparation." She told Joy Sports.
Abambila is one of the experienced players in the team after being a part of the team two years ago in Papua New Guinea.

The FC Minsk player has had an outstanding season in Europe, where she helped the club to the double.

The Black Princesses are in group A of the FIFA Women's World Cup and will open their account against host France before taking on the Netherlands and New Zealand.