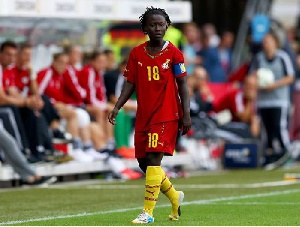 Ghana captain Elizabeth Addo has apologised to fans of the Black Queens for their early exit from the ongoing Africa Women Cup of Nations.
The host team failed to advance from Group A, with their opening 1-0 win over Algeria followed by a defeat to Mali and a draw with Cameroon. This left them in third place on the group and saw their hopes of both winning the tournament and qualifying for the 2019 FIFA Women's World Cup go up in smoke.

"We are sorry, we tried our best, we desperately wanted to win and go as far as to the finals but unfortunately things did not go our favour," Addo said in the wake of the 1-1 draw with Cameroon which sealed their fate.

Coach Bashir Hayford noted that he assembled the best group of players available for the tournament, and insists that his team did all they could to advance into the semifinals.

"I don't think anyone can describe the team as bad, unfortunately, a good team is judged by results and goals scored," he explained.
"We did not get the goals and that has cost us, so on that score we did not meet our target of picking one of the three Women's World Cup slots."

The semifinals will be played in Accra and Cape Coast later today, with Cameroon taking on Nigeria and South Africa battling Mali.

The two winners will not only advance into the final on Saturday but also automatically secure a World Cup berth. The final spot at the 2019 tournament will be decided by the third-place playoff on Friday.