Black Queens coach Nora Hauptle urges more clinical finishing despite resounding victory over Guinea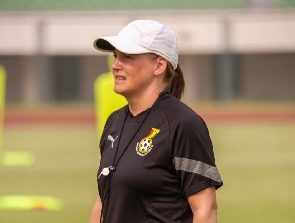 Black Queens coach Nora Hauptle has expressed her belief that her side should have converted more goal-scoring opportunities despite their resounding 4-0 victory over Guinea in the return game of their 2024 Olympic Games qualification.
The match played at the Accra Sports Stadium saw the Black Queens dominate their West African opponents, but Hauptle felt they could have been even more clinical in front of goal.

Speaking after the match, Hauptle commended her team's overall performance but highlighted the missed opportunities in front of goal.

She said, "All in all, I think it was a good game we played. We leveled up against the first leg in Guinea. The pitch was much better, so our possession [of the ball] was good.
"The only thing I would say is that maybe we should have scored a bit more goals out of these chances," she continued.

"But all in all, I am very satisfied, happy that we passed this first qualification round."