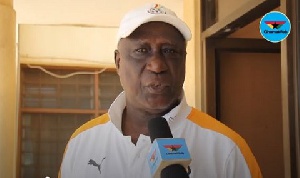 Head coach of the Black Queens, Bashiru Hayford is delighted by the level of improvement in his team ahead of the Africa Women Cup of Nations.
Ghana defeated South Africa in an international friendly on Sunday at the Accra Sports stadium, after forward Samira Suleiman headed in an Elizabeth Addo cross in the 21st minute.

Ahead of the Africa Women's Cup of Nations, which begins on November 17th, the former Dwarfs coach is impressed with the level of preparations of his team.

"We went for a training tour and invited our foreign players to meet us there. So hurriedly we have to make a team and play two matches," he told reporters after the game.

"The first match that we played we went with 15 players and seven others came three days after. immediately they landed the next day we played the match (vs Zambia).

"You could imagine playing a team that has been in camp , played in this COSAFA games and you go and play them with this disjointed them and we did well by scoring two first goals and later they equalized and added one."
"From there we waited for the rest of our professional players and we went to Kenya . That one we played 1-1 with them and the performance is what we are after." he said.

"I think you clapped and clapped and clapped because females playing football like that I think it is amazing.

"Yes it is improvement by improvement. First match, second match and this is the third match. Saturday you will see a different set up and a different performance for everybody to cheer up" he added.

Ghana is in group A with Algeria, Mali and Cameroon.