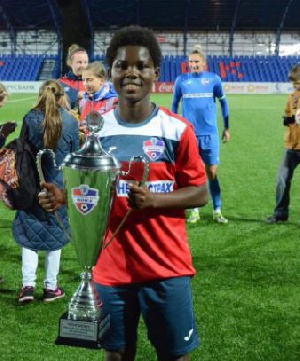 Black Queens defender Ernestina Abambila has expressed her satisfaction at winning the double with Belarusian side FK Minsk.
FK Minsk beat Zorka-BDU 1-0 to win the FA Cup on Sunday. Ernestina Abambila and Fautina Ampah both enjoyed minutes in the game.

The victory means the Ghanaians have won the double, with Ernestina Abambila expressing her joy on twitter.
Abambilah and Ampah were both in the Ghana team that played their French counterparts in a friendly a couple of weeks ago.


What A Season For Me And My Team For Winning Double In One Season????#League Cup????????#Belarus Cup????????
Thanks to Everyone For your Support and Prayers, l really Appreciate it A lot
Love You All???????????? pic.twitter.com/S5bEgBldZs

— Ernestina Abambila (@EAbambila) November 13, 2017