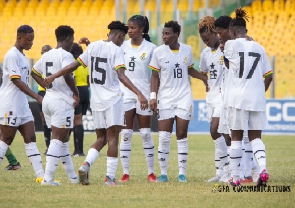 The senior female side Black Queens drew 1-1 with Avenor Stars in a friendly game ahead of their 2024 Olympics games qualifier clash with Guinea.
Nora Häuptle, the Queens' coach, divided the team into two sets, with the first set concluding in a goalless game.

Avenor Stars took the lead in the 60th minute, but Jaqueline Opoku equalized in the 70th before the game was called off.

The team will continue its preparations before departing Accra for Conakry for the first leg qualifier against Guinea.

Below is the qualification format as released by CAF:

Qualifiers format: The qualifiers will be in a home/away format with a total of four rounds of qualifiers :
- First round is composed of 18 teams. The highest seven (7) ranked teams in the last TotalEnergies Women's Africa Cup of Nations will be exempted.

- Second round: the nine (9) qualified teams from the first round in addition to the seven (7) exempted teams will play in the second round. Eight teams will qualify for the third round.

- Third round: The eight (8) qualified teams will play the third round qualifying for four teams for the fourth round.

- Fourth round: the four (4) qualified teams will play qualifying two teams to the Women's Olympic Football Tournament (WOFT).