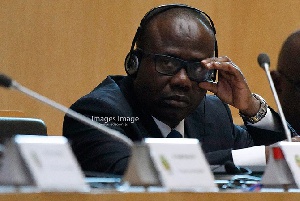 The appointment of the next Black Stars coach is imminent, amidst the conspicuous media campaign to have former Ghana coach, Kwesi Appiah, reinstated, replacing the departed Avram Grant.
In-between the duration of the search and the final announcement, speculations would understandably be rife, regarding which candidate is likely to get the nod or that, football enthusiasts' emotions are merely being toyed with on the suspicion that, the committee set up to champion the search for the next stars boss might have indeed, decided on the next appointee but may just be following "due process" before the announcement and subsequent unveiling are done.

Having monitored the reaction of Ghanaians on social media platforms and the local traditional media in relation to the search for a new coach, the crusade to get Kwesi Appiah back as Black Stars gaffer is almost universally endorsed and his likely appointment might rekindle the dying love for the senior national team.

Kwesi Appiah's appointment as the next coach has even received political backing, as the leader of the majority in parliament, Hon. Osei Kyei-Mensah Bonsu, recently reiterated the need to consider former footballers for the top job; if they are qualified.

The majority leader condemned the GFA for its preference of expatriates to head the national team over equally qualified indigenous trainers.
According to history, the Ghanaian national football team has had eight local coaches and 23 foreign coaches over the years but, measuring the degree of success of the local coaches to that of the foreign coaches, it can't be disputed that the local coaches have been more successful than their expatriate counterparts.

Ghana's four African Cup of nations trophies were all delivered by local coaches; C.K. Gyamfi and Osam Duodo, as well as the U-20 World Cup trophy which was won by Sellas Tetteh back in 2009.

But it is amazing how the current FA has been obsessed with appointing foreigners, who have somehow failed in their quest to deliver any honours for the country. However, a cursory view of incidents suggest that, it will certainly be strange, surprising, shocking and a disaster if the GFA overlooks Kwesi Appiah for the Stars job, considering his qualification and experience at the top level of coaching.

As the screening process is set to commence on Friday, many Ghanaians will be keeping a close eye on proceedings at the vetting, as the next Black Stars coach should be the choice of the people devoid of the pursuit of any personal or collective parochial interests, as the country seeks to reclaim its glory on the continental and global stages respectively.