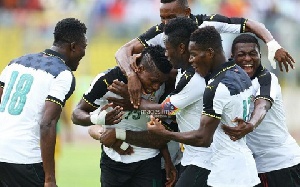 Veteran football administrator Yaw Boateng-Gyan has alleged senior Black Stars players are sharply divided on political lines - among the ruling New Patriotic Party and opposition National Democratic Congress.
The senior figure of the opposition National Democratic Congress claims captain Asamoah Gyan, the Ayew brothers, Emmanuel Agyemang-Badu and Mubarak Wakaso have nailed their colours to the mast.

There have been widespread suspicion of massive division in the team which appears to have been escalated after the country's unflattering campaign in the 2018 World Cup qualifiers.

The Ayew brothers pulled out of the World Cup qualifying return leg against Congo while injured Gyan traveled with the team to Brazzaville as they toasted the home team 5-1 on Tuesday.

But former Black Stars management committee member and Bofoakwa Tano chairman Yaw Boateng-Gyan has alleged the friction in the team has political undertone.

"Our boys in the national team including Asamoah Gyan, the Ayew brothers, my own nephew Emmanuel Agyemang-Badu (who has been overlooked) and Wakaso and the others must stop the politicization of the Black Stars," he fumed
"If not, Kwesi Appiah should not call any of them. What I have heard is that my own nephew Asamoah Gyan calls President Akufo Addo because he is his friend.

"Then Dede and his brother also call former President John Mahama. How can you play any productive football with these mindset?

"You could clearly see the last time that they avoided passing the ball to each other. They are toiling with our heart!

"There is an iota of truth in what I am hearing and its best they put a stop to it. Politics is gaining roots in the national team.They are professionals and should leave the politics for us.

"Even those of us who are engaged in politics and football administrations at the same time dont get the two mixed up."
Politics and football rarely mix. In fact, perhaps the beauty of competitive sport in this day and age is the complete absence of political manoeuvre and personal societal gain.

While elements of political gossip do still occasionally crop up in football, it is normally at board room level regarding off the pitch matters.

It's believed asserting political beliefs divides an audience because there's a sense of apathy towards politics amongst the demographic of men who make it as professional footballers.