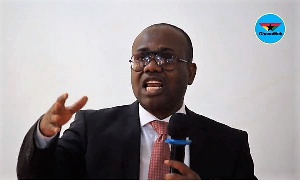 Kojo Yankah, former Western Regional Football Association Chairman and a former member of the erstwhile Executive Committee of the Ghana Football Association (GFA) has revealed that the abysmal performance of the Black Stars and their unexpected exit from the ongoing African Cup of Nations(AFCON) tournament vindicates the erstwhile Kwesi Nyantakyi administration, ABC News can report.
According to the vociferous Yankah, the unfortunate turn of events in Egypt is a clear indication that the Kwesi Nyantakyi regime was unfairly chastised and lambasted by Ghanaians.

According to him, the allegations of corruption, deals, and inefficiencies have, to a large extent, been proven to be non-existent.

His justification stems from the fact that the Senior National team, the Black Stars, consistently performed better in tournaments despite its inability to win the much sought after trophies.

Speaking in a radio interview monitored by ABC News, Kojo Yankah explained that, "now you can really see that we (Former GFA members) are vindicated and whatever they accused us of were not true. We are really victorious. If during our administration we were able to qualify the team but this time they were not able to qualify, it means we are vindicated. That is all I will say. The current administration should bow their heads in shame."
Specifically, the close confidant to the former GFA president noted that, said his team was as transparent as they could possibly be by disclosing team budgets for tournaments participated in.

His concern today is that he cannot fathom why the current administration is unable to do same despite several criticisms by some of their members when embattled football administrator, Kwesi Nyantakyi, was at the helm of affairs at the Ghana Football Association.

"During our administration, we constantly named the budget for every tournament for Ghanaians to discuss. So when you analyze it, aren't we vindicated? We are exonerated. They can only tell what prevented them from disclosing the budget. I don't even think they can even come and explain to Ghanaians as we did during our regime so you can just tell the difference", Mr. Yankah explained.