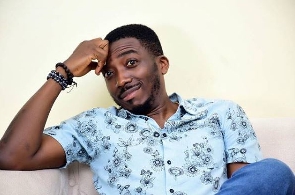 Nigerian comedian Bovi Ugboma who is widely known as Bovi has spoken out about the treatment he received from his father in his formative age.
In an interview with media personality Chude Jideonwo, Bovi said that he would not want to raise his children the same way his father did when he was a child.

Bovi clarified that although he and his father are not close, they are still "cool".

He stressed that as he grew older, he was able to learn and appreciate the fact that you cannot hold other people accountable for your happiness or blame other people for your misfortunes.

He said that his father did what he thought was right at the time, so he doesn't hold it against him.
He said: "I've grown to that point where I'm like, okay my old man was doing according to what he knows was right, probably if he knew more, things would have been a bit different.

"It's not like we're always fighting and all that but I don't want to raise my kids the way I grew up under my old man, so I'm trying to be different."

Watch him speak in the video below (Start from 5:00)