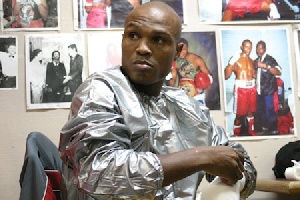 Former WBA welterweight champion, Ike Bazooka Quartey says boxing in Ghana is dead and will need serious minded personalities to restore the sport back to its glory days.
It's been almost a decade since Ghana won a world title, and development of talents at the amateur level has also taken a nosedive in recent times.

Ghana as at now cannot boast of a credible boxer after years of dominance by legendary boxers like, D.K Poison, Azumah Nelson and Ike Quartey.

Ike Quartey, who dominated boxing in the early 1990's, is eager to help the sport even though he admitted the sport is dead.
"Boxing in Ghana is dead and we will need a lot; starting from the Amateur level, that is where we have to be serious about.

"Now we cannot say that this particular boxer is the one we can rely on and say he will win medals for this nation or not, the top boxers in the world started from amateur and that is where we have to start from if indeed we want to get back the glory days," Ike Bazooka Quartey told Sportscrusader.com