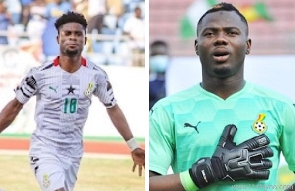 Two of Ghana's oldest clubs, Hearts of Oak and Asante Kotoko are set to receive more than $200,000 each in financial rewards for their contributions to the Ghana national team, the Black Stars, at the 2022 World Cup.
According to a report from FIFA released on July 13, 2023, the Ghana Football Association have been paid $565,772.42 to be distributed to five clubs in Ghana.

The five Ghanaian clubs expected to benefit from this financial windfall are Hearts of Oak, Asante Kotoko, Steadfast FC, King Faisal, and Dreams FC.

According to the report, Hearts of Oak received the highest amount of $219,008.70 for their contribution to the Black Stars at the World Cup in Qatar.

Asante Kotoko followed with $200,757.97 with the likes of Steadfast expected to get $109,504.72 while Dreams and King Faisal will receive $18,250.72 each.

The compensation forms part of FIFA's effort to acknowledge the role of clubs in developing and nurturing the players who represented Ghana on the global stage.

Ghana's World Cup squad included two players from the Ghana Premier League, Danlad Ibrahim (Asante Kotoko) and Daniel Afriyie-Barnieh (Hearts of Oak), who were selected by coach Otto Addo.
King Faisal, Steadfast, and Dreams benefited from the tournament because they had players who participated in the Black Stars' qualifiers for the World Cup.

Under this program, each of the 837 footballers is eligible to receive a rounded daily amount of USD 10,950, regardless of the number of minutes they played in the tournament. Ghana's team remained in the tournament until the end of the group phase.

This initiative was first introduced before the 2010 World Cup in South Africa. The financial reward is given to clubs that the players were registered with during the World Cup qualifiers and throughout the tournament.

Through the Club Benefits Programme, a total of USD 209 million will be distributed to clubs worldwide as recognition for their players' contributions to Qatar 2022.


????????Hearts of Oak are the biggest beneficiaries as four other Ghanaian clubs are to receive over $500,000 from the FIFA Club Benefits Programme as part of rewards for having representatives in the Black Stars squad at the 2022 FIFA World Cup.#JoySports pic.twitter.com/BFN3B9aTpz

— ⬅️ #JoySports (@JoySportsGH) July 13, 2023