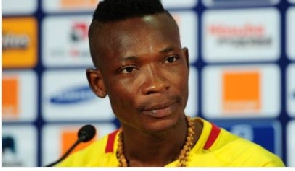 Mon, 29 Jan 2018 Source: Nana Kwabena Agyare
Former Blackstars player, John Paintsil has urged club chairmen to put in place structures that will ensure the effective day to day operations of their clubs.
In an interview with SVTV Africa's Evans Amawugah, Paintsil disclosed that the unattractive nature of the Ghana premier league cannot be blamed only on the Ghana football Association.

According to him, owners and club chairmen have a pivotal role to play in ensuring that the Ghana Premier league gets the needed recognition in Ghana and on the African continent.

He explained foreign clubs run smoothly because there are structures in place and has urged Ghanaian football chairmen to carefully setup working structures in their team in order for investors to be attracted to sponsoring their clubs.
"You cannot only focus on the money that the FA will give you because it is not enough. If you're given $5000 dollars by the FA, You cannot use that to pay the salaries of all the players. But if you build a good structure with everything in place, you will get support from all the people you invite on board.", Paintsil said.

According to Paintsil even though monies given to the clubs are small to ensure their effective operations, it was up to the clubs to find ways to generate revenue from other sources because club management requires a holistic approach.

The Ghana Premier league has been the centre of discussion for some time now following the withdrawal of First Capital Plus Bank in 2015 and the inability of the Ghana football Association to find a new sponsor for the league.
Source: Nana Kwabena Agyare