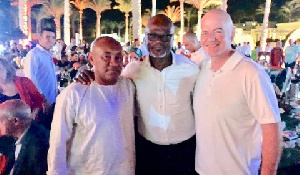 CAF and FIFA Presidents Ahmad Ahmad and Genn Infantino have given their express backing to Ghana for the upcoming 2018 Total Women's AFCON.
The duo were present at the 2018 CAF Emergency General Assembly in Egypt where Dr Kofi Amoah, the President of the Ghana Normalisation Committee and Naa Odofoley Nortey took part in the event to elect CAF's Anglophone representative at the FIFA Executive Council.

Walter Nyamilandu, President of the Malawi football governing body was elected to represent CAF on the FIFA Council. The vacuum was created when former Ghana FA President Kwesi Nyantakyi resigned following an explosive bribery scandal.

Ghana has been preparing feverishly to host Africa's next biggest women football event in November.
Rumours were widespread that CAF was not satisfied with Ghana's preparations ahead of the tournament with Tony Baffoe, a leading CAF member, stating the West African powerhouse are behind with preparations.

But, with Kofi Amoah personally meeting both the CAF and FIFA Presidents in Sharm El Sheikh he seized the moment to brief them on the progress of work.

Both Ahmad and Infantino expressed confidence in Ghana to host a successful tournament after Kofi Amoah briefed them on the progress of things