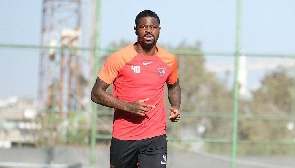 Hatayspor's Cameroonian midfielder, Kévin Soni has said that he survived the earthquake because of prayer.
Soni, who is a Muslim, narrated that he had stayed up all night and decided not to sleep before his early morning prayers.

He said he would have died if he had decided to take a nap before his first prayer of the day.

"I am a Muslim and I am very religious. What saved me was that I wanted to wait until 6:40 a.m. To say the first prayer of the day. That's why I didn't sleep. So I tell myself that if I had slept, seeing how everything fell in the house, I would certainly have died. The stones that fell were huge. It was a seventeen-story building, so if I had slept, I think I would have died."

The Cameroonian narrated how the earthquake started in his region while he and his cousin were playing PlayStation.

"I was sitting down with my cousins and we were playing PlayStation. Around 4 or 5 a.m., the ground began to shake. At the time, I told my cousins to calm down. It was when the ceiling and walls started falling on us that we started fleeing by the stairs.
He added that he wanted to jump from the seventh floor of a 17th-story building but luckily managed to get out before the building collapsed.

"We just had time to take our passports and phones, and had the chance to get out of the building before everything collapsed. At first, I wanted to jump from the seventh floor, but I told myself I was going to break my foot and not play again, so I took the stairs and ran."

At the moment, Ghanaian winger Christian Atsu and the technical director, Taner Savut are the only Hatalspor members yet to be found after the tragic incident on Monday, February 6, 2023.

EE/KPE