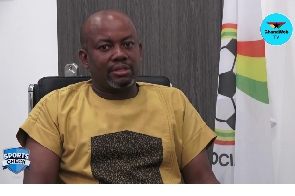 An Executive member of the Ghana Football Association, Sammy Anim Addo has urged the newly-appointed Black Stars coach, Chris Hughton to be bold in his decisions if he is to succeed.
With concerns about leadership of the GFA interfering in the duties of Black Stars coaches, Anim Addo believes Hughton can overcome such a hurdle by being his own man.

He noted that the new Black Stars coach must be committed to making the entire nation happy rather than deciding to please a few people who want to push their own agenda.

"When it comes to the coach, I expect him to do things which would make everybody happy. He will have to take decisions which will make the nation happy. The national team is for the nation it's not for the GFA. So a coach must know how to satisfy the main actors which means the nation comes first," Anim Addo said.

According to him, the coach can only avoid being criticized by football fans by stamping his authority and demanding the best out of his players.
"The coach should not be doing things that will make our people talk too much because unfortunately, our people talk too much which is something some of us don't subscribe to.

"So as a coach, you have to make decisions that will make the talking less and that would mean that you are on top of your game and the players must know that if they don't do the right thing they are off," Anim Addo stated.

JNA/KPE