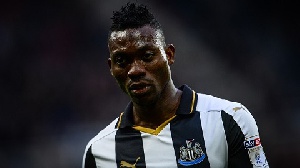 Ghana winger Christian Atsu says Newcastle United players are eager for Rafa Benitez to remain at the club.
The 56 year old tactician will be out of contract at the end of the season and so far opted against signing a new deal.

Benitez signed an initial three-year deal in March 2016 and although the club were eventually relegated, they ended the Premier League season on a six-match unbeaten run.

However, the Spaniard guided them back to the top division and has ensured their participation in next season's campaign.

It has been reported Benitez could be lured to another club in the summer, something Atsu is keen to avoid happening.
"Rafa is more than a manager to us, the way he helps us even outside football, because he believes there is more to a footballer than just going on the pitch to deliver.

"Obviously it's hard for me to speak for everyone in the locker room but I can say we are all very happy with him and his coaching staff."

"It's clear the players want him to stay and it's not just the playing body - you go into the kitchen for lunch and the way he relates to the kitchen staff and their response to him - it is so clear that everyone, even the fans, want him to remain here for a long time."