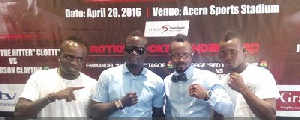 Accra Sports Stadium will host a legendary night of boxing on April 29th as former world champions Joshua Clottey and Joseph Agbeko will share center stage against separate opponents.
Promoters Box Office Sports Promotions and Fresh King Entertainment hosted a press conference today at the Alisa Hotel in Accra announcing the historic card.

Clottey (39-5, 22 KO's) will be fighting in Ghana for the first time in 14 years against Brazil's Anderson Clayton (43-10-2, KO's) in a light middleweight clash billed for 10 rounds.

"It is a great opportunity to be fighting in Ghana again,' Clottey said during today's launch.

"I missed my fans and I promised Ghanaians a win and I will dedicate it to my former trainer Kotey Dzane who has passed away."

Agbeko (30-5, 23 KO's) will battle Cris Alfante (11-5-1, 4 KO's) from the Philippines in another 10 rounder.
"It is going to be a big day for me," Agbeko exclaimed. "Ghanaians love boxing and history will be made because myself and Joshua Clottey, we are former world champions.

"Definitely Ghanaians will witness a win from me. Everything is under control. The reason for fighting in Ghana is to project the image of sport."

The undercard is equally stacked. Emmanuel "Game Boy" Tagoe (24-1, 11 KO's) will make his return to the ring, putting his international lightweight belt on the line against the extremely dangerous Mzonke Fana (38-9, 16 KO's) from South Africa.

George Ashie (25-4-1, 18 KO's) will also be featured the night, ending an extended layoff to face Cid Ribeiro (20-6, 16 KO's) in a lightweight contest scheduled for 10 rounds.