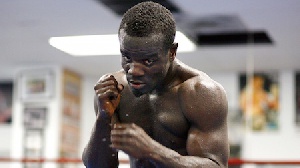 Former International Boxing Federation (IBF) Welterweight Champion Joshua Clottey has exclusively told Ultimate Sports that the death of his trainer Godwin Quartey Djanie will affect his sporting career.
Godwin Qaurtey Djanie affectionately called Alloway, passed away last week after battling with an unknown ailment for three months.

According to him, his trainer played a pivotal role in his career indicating that his sudden demise is a big loss to sports especially the boxing fraternity in the country.

"The death of Alloway is going to be a problem for everybody; we need the likes of Alloway in our boxing fraternity to help the up and coming boxers. Let me tell you something interesting about Alloway, he was a trainer who never had his eyes on money. He was always concerned about his boxers' health instead of the money he was going earn after a fight. I think the nation has lost a great man, and his death will affect my career", he said
Ultimate Sports understands Alloway who also coached at the Attoh Quarshie Gym in Accra, was absent from ringside during Clottey's recent loss to the American Boxer Gabriel Rosado because of his ill health.

The well-respected boxing trainer is believed to have also trained former world champions including former Bantamweight champion Joseph Agbeko and had worked with boxing legend, Professor Azumah Nelson.

Clottey has seen Alloway as a father figure throughout his career, and Alloway assumed more prominence in Clottey's life after the boxer lost his father last year.