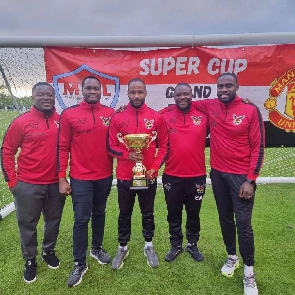 UK-based Coach Hene Sports are close to agreeing a deal with the Ghana Education Service (GES) to collaborate on a grassroots football initiative.
The initiative is aimed at piloting a unique football league specifically designed for children aged six to 13 and is set to be approved on the club's first visit to Ghana in October 2023.

Director-General of the GES, Dr Eric Nkansah, and Emmanuel Afranie, the founder of Coach Hene Sports Club will lead the two parties in Accra in an attempt to finalise details of the pact.

 

Named after the renowned Ghanaian football coach Emmanuel Kwasi Afranie, Coach Hene Sports Club has rapidly grown into one of the leading grassroots clubs in the United Kingdom.
The club focuses on providing affordable football training and education to children from diverse backgrounds, including those from Black, Asian, and Minority Ethnic (BAME) communities.

 

Over the past three years, Coach Hene Sports Club has demonstrated its dominance in the Manchester Youth Super League, winning an impressive seven out of nine finals last season alone. Additionally, the club has successfully helped 25 children secure contracts with professional pre-academies in the UK, including prestigious clubs such as Manchester United, Manchester City, Liverpool, Everton, and a host of others.

 
As part of their commitment to giving back, Coach Hene Sports Club aims to replicate their successful league format in collaboration with the GES.

To kick off this initiative, a football clinic will be organised for children aged six to 13 on October 10 and 12 in Accra and Kumasi, respectively.




Notably, coaches from Coach Hene Sports Club - doubling with roles at  Manchester United and Manchester City - will join this trip to Ghana, further enhancing the program's potential impact.
 

 

George Addo, Communications Director of Coach Hene Sports Club, expressed his enthusiasm for the potential positive impact in Ghana, similar to the successful initiatives they have implemented in the UK.

 
"We are filled with optimism that this partnership when finalised, will provide numerous young Ghanaians with the chance to enhance their football abilities while pursuing their education, and ultimately preparing them for the international football market."

 

The primary objective is to establish an inaugural football league specifically designed for Ghanaian children as young as 6 years old, providing opportunities for all, regardless of their experience or skill level.