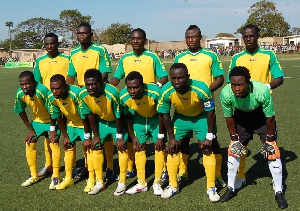 Coach of Mysterious Ebusua Dwarfs, J. E Sarpong has revealed the secret behind his team's strong run in the GN Bank National Division One League.
Dwarfs have been arguably the best team in this year's Division One League with a record 22 wins in 27 league outings. The Cape Coast based outfit will confirm their return to Premier League football if they can avoid defeat over the weekend with two games to spare.

When asked on the reasons behind the unique run of results in the league, the former Liberty Professional head coach said, "It was a well planned program for the team after we left the scene. We sat back with the management and asked whether we can come back within one year or not. The managements made a lot of inputs and it helped us retained some of our regular players in the team. We retained the disciplined ones who wanted to fight and make a name for themselves.

"Also, the bedrock of the team is from Cape Coast and they are playing for their community as well. This has solved the past problems where players who were drafted from other parts of the country could just pack and leave midway through the season. The players are not playing for Ebusua Dwarfs but for their communities as well".
The excited J E Sarpong then commended the attitude of the clubs supporters toward the team

"The supporters have been marvelous all season. I dare say, the Dwarfs supporters union is one of the best supporting bodies in the whole country. I have coached many and I know how the supporters behave, but these are fantastic supporters coming to fill our matches even in mid weeks."

Ebusua Dwarfs romped to the sole ticket in Zone II with 22 wins and 64 goals scored en route to Premier league football. Second place King Solomon is 9 points adrift of the Mystery club with 3 matches to end the season.