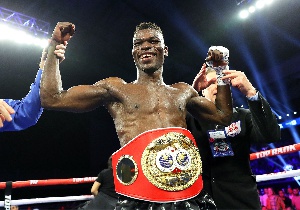 Tue, 12 Feb 2019 Source: ESPN
Richard Commey captured the IBF lightweight title last weekend with a win over Isa Chaniev in Frisco, Texas, but his plans for a unification bout have been postponed.
Commey (28-2, 25 KOs) will miss out on a planned fight against Vasiliy Lomachenko (12-1, 9 KOs) due to a right-hand injury.

Commey-Lomachenko had been scheduled for April 12 at Staples Center in Los Angeles.

"Lou DiBella, Commey's promoter, informed us that [Commey] is out six to eight weeks because of the knuckle injury," Carl Moretti, Top Rank's vice president of boxing operations, confirmed to ESPN. "Lomachenko will still fight April 12."

With Commey out of the picture for now, Anthony Crolla could fight Lomachenko in April.

Crolla (34-6-3, 13 KOs), a former WBA lightweight champ from Manchester, England, is that organization's mandatory challenger after defeating Daud Yordan over 12 rounds in November in what was a WBA elimination bout.
The WBA had granted Lomachenko (who also has the WBO belt) and Top Rank a special permit to fight the winner of Commey-Chaniev, with the understanding that this bout had to take place by April.

"But obviously [Commey] can't box in April, and under the WBA ruling, [Lomachenko] must fight Crolla next," said Eddie Hearn of Matchroom Sport, which promotes Crolla. "We received an offer from Top Rank and we're negotiating with them."

Matchroom Sport has an exclusive content deal with DAZN, while Lomachenko and Top Rank are contractually bound to ESPN.

"It's a fight we'd love to have on DAZN, but at the same time, there will be purse bids called shortly," said Hearn, who then made it clear, "We want Crolla to get the fight. So we're not averse to putting the fight on ESPN, at all. But it's certainly an interesting dynamic."

Hearn continued, "There's two ways it goes: One is we accept a deal to fight on ESPN, which we're more than open to, no problem at all. Or it goes to purse bid. And if it goes to purse bid, either DAZN wins it, or Lomachenko vacates.
"But my primary concern is to make sure Crolla gets the fight and we don't want Lomachenko to vacate. So we're fully committed to the talks with Top Rank, and we're not looking to be difficult or political. It's all about what's best for Anthony Crolla."

"Everyone will be reasonable," insisted Bob Arum, the head of Top Rank. "Obviously, Lomachenko is an ESPN fighter, and Eddie understands that -- and that's no problem. It would be the same thing if he wanted one of our fighters, who was mandatory for one of the DAZN fighters. We would certainly cooperate.

"The idea that people shouldn't cooperate and play hardball is stupid."

As for how the early negotiations are proceeding, Arum stated, "[Hearn's] guy threw out a number which was a little high -- in fact, a lot high. Now we're trying to zero in on a number we can agree to."
Source: ESPN