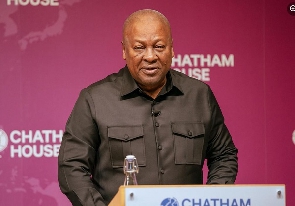 Renowned journalist, Dan Kwaku Yeboah has hailed former president, John Dramani Mahama for opting to settle his own electricity bill.
Kwaku Yeboah, after learning about Maham's decision to pay his bills instead of the government, commended the National Democratic Congress's flagbearer while questioning the constitution.

"They said government pays electricity bills for all former presidents, but former president Mahama pays his own. Then he has done well. He has done really well. What kind of constitution are we using?"

He also questioned certain privileges former presidents get as stipulated in the ex-gratia.

"In fact, if we tell them to pay, they can. It's not like they can't pay their bills...someone became a president and now he is at home receiving his ex-gratia and we are still paying his electricity bill, we pay him, we change his car every whatever years, why?"

John Mahama in an interview with TV3 in 2022 said that all he receives from the government is his monthly stipend and that all other bills the state must cater for have not been attended to since he left office in 2017.

Mahama said he is footing a myriad of bills, including electricity, fuel, office rent, and travel expenses.
Responding to a question in an interview with Peace FM's Kokrokoo on April 17, 2023, Samuel Dubik Mahama, explained that the electricity company collates all former presidents' bills and sends them to the Chief of Staff for payment, however, when they received former President Mahama's bills, they realized that he had already been paying his own bills.

The MD admitted that the fault lies with the electricity company for not doing their job well. He further explained that they are supposed to read the former president's meter and send the bills to the Chief of Staff for payment.

"We collate all former president's bills and we send them to the Chief of Staff for payment.

"Let me break it down, former President Kufour's bills are with us, we gave them to the Chief of Staff and she has worked on them. We also had former President John Mahama's own…we tried to get in touch with him, and when we got the bills, for him, he has already been paying his own bills…Yes, he pays his own bills.

"So, from now onwards we are going to have discussions with him so that moving forward it would be absorbed.

"I won't put the blame at his doorsteps or make it political, it is my office, we were supposed to read his meter and take action by informing him that we will handle it, so, we now have put those structures in place after a very comprehensive conversation with the Chief of Staff.
"She told us her peace of mind and she told us exactly what we have to do because a lot of people would like to drop the problem at the political doorstep which is wrong," he said.

Watch Dan Kwaku Yeboah praise John Mahama for paying his own electricity bill from the 2nd minute



EE/KPE