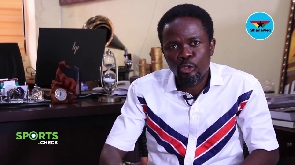 Journalist with Despite Media, Dan Kwaku Yeboah has listed a series of projects that show that the current government has done a lot by way of infrastructure in the sports sector.
He told Kwame Sefa Kayi on Peace FM earlier this week that it is fair to give due credit to the president on multiple levels for the progress so far.

The list includes the following:

a. About 150 astro turfs from 3 when Nana Addo Dankwa Akufo-Addo came into office in 2016

b. 10 stadia built with six currently ready for commissioning.

He clarified that the youth centers built by government did not only comprise the playing field but that it is a sports complex with tartan tracks and areas for other sporting disciplines.
c. Legon Stadium is almost complete with a warm up tartan track along with a Rugby Stadium.

d. Swimming pools and aquatic center at Borteyman. The facility also has tennis court and indoor sports hall.

e. Renovation of stadia especially Accra Sports Stadium was undertaken even though the facility has since deteriorated due to management deficiencies.


There has been recent talk of lack of govt's commitment to developing sports infrastructure in the country, but the data and incontrovertible evidence on the ground rather points to the contrary, especially under the Government of H.E Nana Addo Dankwa Akufo-Addo.

Before H.E… pic.twitter.com/qpoKv2dktz

— HAKEEM (@keembobo) September 15, 2023
SARA
Watch the latest episode of Sports Debate and Sports Check below