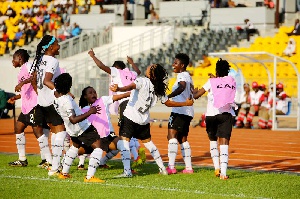 Ghana and Cameroon got their 2018 African Women Cup of Nations (AWCON) off to an ideal start with 1-0 and 2-1 wins over Algeria and Mali respectively in Group A on Saturday.
The Black Queens recorded a slim victory over an Algeria side that largely improved in the second half and posed many problems to the Ghanaian team but Gladys Amfobea's first-half strike would remain the only goal of the game but this was not a championship winning performance from the Black Queens.

And Cameroon would be asking questions having started conceding cheap goals just at the start of the competition despite staging a great comeback to win 2-1.

With Nigeria – the tournament's hot favorites in the competition – both Ghana and Cameroon know they have more to do if they are to have any realistic chances of lifting the trophy.

Here are the seven things we at FootballmadeinGhana.com learned on the opening day of the AWCON.
1. Black Queens attack was dead

The Ghana attack led by Samira Suleman and supported by skipper Elizabeth Addo failed to do what attackers do in a game of football – scoring goals and threatening opposition defenders. Suleman who scored the only goal in Ghana's last friendly against South Africa struggled to find her feet on Saturday in front of the home fans and her supporting striker Addo could not make any difference either.

2.Gladys Amfobea will be key to Ghana's success

The full-back is just not good at defending but very effective and dangerous when she motors down the right flank. Her long-range balls are big problems for rival goalkeepers and this is the sort of form Amfobea showed during the preparatory period of the Black Queens and it comes as a little surprise she repeated similar performance against Algeria on Saturday.
If Ghana is to win the tournament Bashir Hayford will need his right back to keep her form as the tournament continues.

3.Cameroon has massive mental strength

The 2016 finalists never trembled after conceding a 56th minute goal against Mali but maintained their cool to equalize and win the contest. It was very obvious the women of Ndoko Joseph Brillant were going to score as they kept on playing well. It definitely takes a big mental fortitude to come from a goal down to lead within two minutes.

4. Algeria goalkeeper Kahina Takenint prevented a thrashing
Even though Kahina conceded one goal she made several big saves to deny Ghana from scoring more goals. Kahina realized a big game and was arguably the most standout Algerian player in the game thanks to her superb reflexes and attentiveness in goal. Had it not been her great goalkeeping Ghana could have perhaps hammered the North Africans.

5. Sherrifatu Sumaila is natural dribbler

The Black Queens winger was voted Player of the match for her bold performances. She dribbled at ease and when ever she had the ball it was easier to predict her next move – that is to try to leave her markers for dead on the grass. But what her team need now is ruthless efficiency and the Sumaila must add goals to her football to help her team.

6. Officiating was okay
Officiating is crucial to the success of any sporting competition and refereeing on Day 1 of the AWCON tournament did not generate any big controversies as Ethiopia center referee Lidya Tafesse (Ghana v Algeria) and Jonesia Rukaya Kabakama of Tanzania (Cameroon v Mali) produced appreciable performances free from any controversies.

7. Cameroon will be a hard nut to crack

Cameroon's big display of mental toughness against Mali means they will really be hard opponents when they face the Black Queens on November 23.

Their biggest strength as seen against Mali is not giving up and their attacking football is one that can suffocate many opponents.