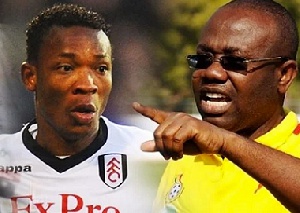 The dream of former Ghana international John Paintsil to become the new owner of Wa All Stars has been truncated following the termination of the deal for the takeover of the club by the owner of the club Kwesi Nyantakyi.
FootballMadeInGhana.com can exclusively reveal that no deal exists again for the transfer of the club from Kwesi Nyantakyi to John Paintsil and the club will no longer be sold to the former deputy coach of Kaizer Chiefs.

The former defender had widely publicised that he has taken over the club from the former Ghana FA president following his life ban from FIFA, but it was flatly denied by Wa All Stars.

Paintsil and his representatives have failed to fulfil their part of the transaction, forcing Mr. Nyantakyi and his representatives to terminate the deal.

There were widespread reports that the former Ghana international has sealed a deal to become the new owner of the Premier League club.
Checks by Footballmadeinghana.com have revealed that though talks were far advanced to have the club sold to Paintsil, the deal was not consummated as publicised.

Insiders say part payment was made for the takeover of the club but John Paintsil and his representatives failed to meet the deadline to complete payment for the club, forcing the termination.

All Stars have been in the Ghanaian top flight since their promotion in 2007.

They famously won the Ghana Premier League in the 2015/16 season and represented Ghana in the CAF Champions League.