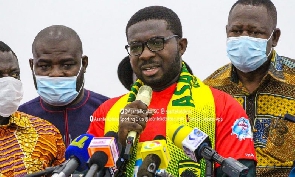 The Chief Executive Officer (CEO) of Asante Kotoko, Nana Yaw Amponsah has hit back at Ghana Football Association (GFA) President Kurt Okraku after he accused the club of not doing enough to get fans to the stadium for games.
The Ghana FA President recently admonished Asante Kotoko and Hearts of Oak to work hard to get fans to patronize their games, insisting that once that is done, it will have a positive effect on stadia attendance at other match venues when the other teams are playing.

In a post on Twitter today, Nana Yaw Amponsah made the argument that Asante Kotoko can only do its part when the right atmosphere is created by the GFA.

According to him, his club cannot build heaven on earth.

"In 2009 (14 years ago), GHALCA in collaboration with PLB and GFA held a seminar at the Accra Sports Stadium to ascertain why people were not attending league matches. I was invited by then GHALCA Administrative Manager Mr. Kurt Okraku as a Guest Speaker.
"A committee was later formed to implement ideas put forward by all speakers. I'm sure President Kurt Okraku would be the right person to tell us where that committee report is and of course has the power to implement same now that he is GFA President.

"I bet you those ideas won't cost $1m to implement. The integrity of sports hinges upon the uncertainty of results. Kotoko and Hearts cannot build a Heaven in a Hell," Nana Yaw Amponsah stressed.

Meanwhile, the Ghana FA has given the assurance that it will do its part to address the low stadia attendance in the Ghana Premier League.