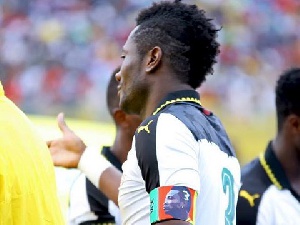 Ghana captain Asamoah Gyan has told Black Stars fans not to give up hopes of qualifying for the 2018 World Cup becasue the players are ready to fight to secure qualification for the tournament in Russia.
The Black Stars are on the backfoot in the qualifiers which has led to some fans giving up on hope of reaching the global showpiece event next year.

Ghana will play Congo in back-to-back qualifiers over the next six days and the results in the two matches will largely determine whether the four-time African champions will qualify for the tournament in Russia.

The first-leg of the match will be played on Friday in Kumasi with the return clash scheduled for Brazzaville four days later.

Ghana need a strong pair of results in the matches against the Red Devils, as they find themselves five points adrift of Group E leaders Egypt, who will battle Uganda in their two matches in Kampala and Alexandria.

Ghana have qualified for the last three World Cups in a row (2006, 2010 & 2014), with coach Kwesi Appiah overseeing their successful campaign to book a spot at the last global tournament in Brazil.

With their slim hopes of qualifying, Ghana needs a favour from Uganda who must defeat the Egyptians to boost the chances of the Black Stars closing in on the Pharaohs.
Gyan has assured the fans that they will go all out and play their hearts out of the country in their bid to secure qualification.

"What I can tell them is that they shouldn't give up though we haven't started our qualification matches well but we have till the end," Gyan said after Tuesday's training.

"Friday's game is what is important now and we need to go in all out and make sure we win then we see what happens."

Topping Group E with six points, the Pharaohs are looking for a victory in the Ugandan capital to boost their qualification chances.

Egypt will host Uganda on 5 September at Alexandria's Borg El-Arab Stadium.

Egypt last made it to the World Cup in 1990, and hope to end their 28-year wait with an appearance in Russia next year.