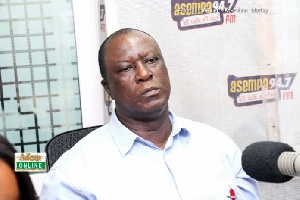 General Manager of Techiman Eleven Wonders, Takyi Arhin insists he's been tagged controversial in Ghana Football.
The outspoken football administrator revealed that for the betterment of the game in Ghana, some football arbiters have to speak up than maintain their silence to the deteriorating beautiful game.

Speaking to Kumasi based radio station Ashh FM, the 'Thunder' popularly known in football circles revealed that he has always foreseen happenings in Ghana football, however, he cannot trust Ghana FA Normalization Committee to bring the game back to normalcy.

"For the sake of Ghana Football, some of us have to speak up." I have not be seduced with anyone's penny so when am talking I say it as it is because I will always speak whenever I say it they tag me that I'm controversial," he said.
"There is nothing that has happened in the past that I never said. I told Ghanaians the Normalization Committee takes allowance and they debunked that but now it has been proven".

"I don't trust Ghana FA Normalization Committee for just a second, because they can't rise to the occasions of changing Ghana Football."

He added, "They can't offer us anything better even in 10-years. The earlier the better is to leave the premises of the Association for serious men to assume office after March 31".