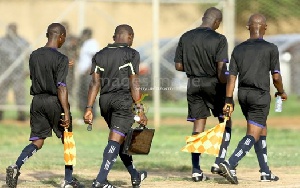 The Eastern Region branch of the Ghana Referees Association has threatened to boycott the region's second division matches, which are set to kick start this weekend due to poor allowances.
In a statement signed by all District Referee Managers sighted by BrytSports, the referees are not willing to honor the division two league games if their allowances are not reviewed by the RFA.

They demand the payment of their transportation and an increase of their allowances from GHC100 to at least GHC150.
Below is the statement from the Referees department: