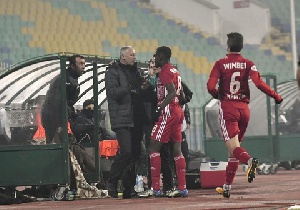 CSKA Sofia wideman Edwin Gyasi was subjected to vile racist abuse from Slavia Sofia goalkeeper Georgi Petkov branding the Ghanaian ""f***ing black monkey during the meeting of the two rivals on Sunday.
The sickening incident is being investigated by the Bulgarian Football Union.

CSKA have petitioned authorities to sanction the goalkeeper over the incident.

The Ghanaian has alleged the reserve goalkeeper branded him "F * cking black monkey" which infuriated the visitors.

Edwin Gyasi said after the match that Petkov had racially abused him.
Petkov's exact words, according to the Ghanaian is "F * cking black monkey."

The reserve goalkeeper continued with the rough tongue, but were heard by the people on the bench.

The Ghanaian went straight to the bench of the opponents after being infuriated by the reserve goalkeeper when he was about making a touch.

The Disciplinary committee will rule on the matter on December 7.