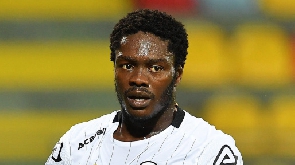 Ghana forward Emmanuel Gyasi has lauded the performance of his Spezia teammates in their game against Atalanta despite letting a two-goal lead slip to draw 2-2 on Wednesday.
Gyasi netted the opener as Spezia raced to a 2-0 lead before halftime, but Atalanta fought back with 13 minutes remaining at the Alberto Picco Stadium.

"I think we played a great match, but we still have a bitter taste in our mouths, because after passing we were twice unable to close the match in the lead, and then ended up suffering a comeback," said Gyasi after the game.

"Sorry, however, that the team was not able to snatch the three points, but looking at the glass half full we still moved the standings against a very strong opponent," he added.

Gyasi connected to an M'bala Nzola assist to score the opener in a thrilling encounter. The Spezia captain showered praises on the attacking midfielder.
"Nzola was really good at serving me on the second goal, we moved very well in that action and when I cheered I saw in his eyes the joy of having served me a great assist. Even after the goal we had the opportunities to close it and if you don't materialize it, teams like these will come back under you," he continued.

Spezia will next face Lecce as the battle for Serie A survival continues.

"Let's look ahead, trying to improve game by game, starting to think about Lecce as early as tonight, because a real final awaits us on Sunday," he concluded.