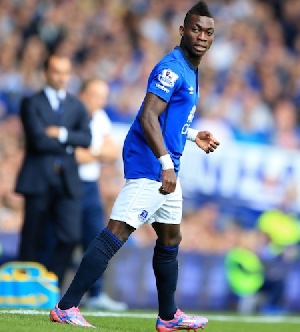 English side Everton have denied speculations they are on the verge of releasing their Ghanaian midfielder Christian Atsu in January with Chelsea's Egyptian forward Mohamed Salah going in the opposite direction.
Reports in the English newspapers suggested on Monday that Chelsea are furious with the lack of first-team appearances Atsu has received at Everton.

According to the reports, Chelsea were threatening to recall Atsu in January, but Everton offered to take the 22-year-old Egyptian winger as replacement for the Ghanaian when the transfer window opens.

According to the Daily Mirror, Everton, who are in need of a left-midfielder, would be keen, but they currently have Atsu on loan from Chelsea and are not allowed to borrow two players from the same Premier League club.

However, Everton have rejected the report with coach Roberto Martinez (RM) flatly denying claims that the Ghanaian's loan could be cut short in order to bring in Salah.
RM also dismisses speculation that Christian Atsu could be swapped with fellow Chelsea winger Mohamed Salah in January #EFCvHUL

— Everton (@Everton) December 2, 2014
The Ghanaian winger has played just 70-minutes worth of Premier League football for the Toffees, failing to impress both the supporters and Roberto Martinez.
Atsu has pace, trickery and ability going forward, but frequently loses the ball in key areas, and fails to match any of Everton's other creative midfielders.

The West Londoners were therefore reported to be keen on recalling the 21-year-old and sending him to Gus Poyet's Sunderland, where he has a greater chance of establishing himself as a first-team player.

Everton fans were hoping Atsu would replicate the success they had with Barcelona starlet Gerard Deulofeu – who often dazzled and contributed in their march to fifth-place.

Martinez has been linked with forward targets such as Breel-Donald Embolo, Lewis MacLeod, Joel Campbell and Andre Ayew – however funds are tight for the Toffees after their £28m record signing of Romelu Lukaku.