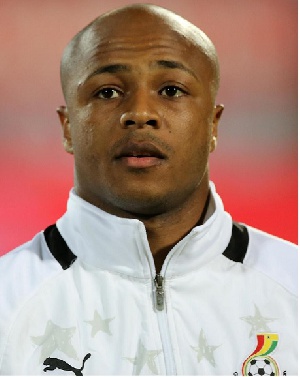 Everton have ignited the Merseyside rivalry with Liverpool by entering the fray in the chase to sign Ghana forward Andre Ayew.

The Blues want to snatch the 24-year-old – who is free to enter a pre-contract agreement with any club in January – from the claws of Liverpool.


Ayew will be one of the most attractive transfer targets as he is out of contract at Marseille next summer.


The Ghana international has also rejected an offer to renew his contract with the French Ligue 1 leaders to further endear him to suitors.


Ayew has featured in all ten of Marseille's league games so far this season and has helped lift the club to the top of the table, seven points clear of big spending PSG.


He has also been a key figure for his international team for several years featuring in World Cups and African Nations Cups.

At 24 years old he has talent, experience and the potential to develop even further! He could prove to be a terrific addition to whichever team he ends up at.


Tactically Ayew should be able to fit almost seamlessly into either team's style of play, acting as a supporting player to either Mario Balotelli or Romelu Lukaku.


He is ideally suited to the type of role currently occupied by Coutinho and Sterling at Liverpool or Steven Naismith at Everton, linking midfield and attack, drifting in from wide positions and combing with strikers to cause problems for opponents.


Liverpool would seem like the more likely choice for the Ghanaian, with a greater history of trophies and success, currently playing in the Champions League and fighting to qualify again for next season.


They would also probably be able to make Ayew a more financially lucrative offer, and money often seems to be the deciding factor in modern football.

But Everton will be looking to use their African presence at the club to lure the son of Ghana legend Abedi Pele – in particular Samuel Eto'o – who is a close pal of the Ghana international.


First team opportunities may also be more limited at Liverpool than at Everton.


Ayew will no doubt be confident of his ability to win a place in the starting line-up but players like Coutinho and Sterling are already well established fan favourites and with Lallana and Markovic adding further depth there would be a lot of competition at Liverpool.


Everton are another team with plenty of creative talent and depth in their midfield but there would definitely be place to fit Ayew into the squad.


Leon Osman has been a key figure for Everton for a decade but he is now 33 years old and while still a highly talented player is reaching the latter stages of his career.

A player like Andre Ayew would be an ideal long term replacement if Everton were looking to the future.


Ayew could seize that opportunity for regular first team football and if he produced the sort of form he is cable of he would be able to follow in Osman's footsteps and become a favourite with fans at Goodison Park.


The potential would be there for Ayew to become a hero at Everton and he should seriously consider taking the chance to become a key figure at Goodison over a bigger pay packet, should Liverpool offer it.


Ayew will feel he has the ability to make the same sort of impact at Anfield and he is an obviously talented player but should he sign for the club to find that he doesn't get the chance to play regularly he may waste a portion of his career and it could hinder him in the long run.


The move to Everton would guarantee he would be given the chance to play and to show what he is capable of in one of the best league's in the world.

Should he take that chance and prove he has the quality he will be able to progress his career much further than he would waiting for the chance to play at Liverpool.