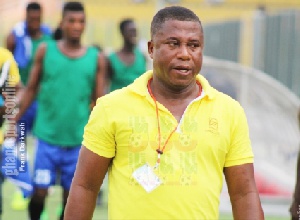 Former coach of Elmina Sharks Football Club, Kobina Amissah, has expressed regrets for rejecting to take up a new role as the technical director for the Elmina Football Academy.
Coach Amissah agreed to take up the new position after satisfying himself with what was said to be a juicy remuneration offered him by the owner and President of the club, Dr Papa Kwesi Nduom.

He however refused later to sign the contract to seal the deal.

That decision, Coach Amissah has explained, was influenced by someone within the camp of Dr. Nduom who phoned to chastise him for not demanding for more than what was being offered him and according advised him not to accept the new position.

Per the contract for the new job, coach Amissah was to receive a pay raise, monthly call credit, fuel allowance, and laptop computer among others.

But he said the insider who had full knowledge about the financials of the contract, convinced him that what was being offered him was below what his contemporaries in other clubs were receiving.
Accordingly, he declined to sign the contract which he had initially agreed to and was looking forward to signing.

Speaking on Ocean1 TV, Coach Amissah said noted he if he had not acted the way he did, he could have provided at least one academy player for Elmina Sharks.

He thus offered sincere apology to Dr. Nduom, the Omanhene of Edina Traditional Council Nana Kwadwo Conduah VI and other well-wishers who trusted him and encouraged him to take up the new role.

His issue, he said, should be a lesson for all young people, especially those in the football fraternity.