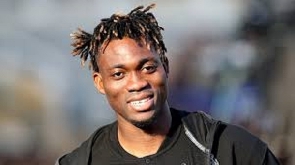 Former Ghanaian national team player, Emmanuel Agyemang-Badu, has announced plans to meet with his fellow teammates to discuss ways to honor Christian Atsu, who recently passed away.
Atsu was among the thousands of people who lost their lives in the tragic earthquakes that hit Turkey and Syria on Monday, February 6.

Agyemang-Badu spoke about his former colleague and friend in an interview with Citi Sports.

He described Atsu as a "blessing to Ghana football" and praised his contributions to the team during his time as a winger for the national team.

Agyemang-Badu emphasized that the team will need to collaborate with Atsu's family to determine the appropriate way to honor their late teammate, stating that "we can't just do it alone."
"The footballers will have a meeting this week to see what we can do for our late brother and we can't just do it alone, we need to collaborate with the family to tell us what we need to do and where we need to do certain things."

The pair played together in three AFCON campaigns and the 2014 FIFA World Cup.

During the One Week Observation ceremony held at the Adjiringano Atsro Turf, it was announced that Atsu's final funeral rites will be held on Friday, March 17 at Ghana's State House.