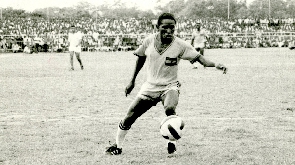 The World's Football governing body archive center, FIFA Museum has celebrated legendary Ghanaian player, Reverend Osei Kofi.
Rev. Osei Kofi who was part of Ghana's team that won the AFCON title for two consecutive times was hailed by the FIFA Museum as one of the most skilful African players that played an important role in Ghana's quest to win the trophy.

FIFA Museum in a tweet said, "Ghana was a force to be reckoned with in the 1960's, winning back-to-back AFCONs."

"Part of the team was the "Wizard Dribbler" Osei Kofi who played an important role in the 1965 tournament as the joint top goal scorer.

"Osei Kofi spent his whole career at @AsanteKotoko_SC in his home country Ghana, after turning down a move to Europe in his prime."

Osei Kofi was one of the players with exceptional talents to have played for Ghana in 1960s. He was nicknamed, the wizard dribbler due to his ability to weave through a forest of legs even in the tightest of angles.
Osei Kofi won his first AFCON title in 1960 and carried Ghana to triumph in the 1965 Africa Cup of Nations on 21st November 1965.

He was once Ghana's top scorer at the AFCON with seven goals in just two tournaments, 1965 (three goals) and 1968 (four goals).


Osei Kofi spent his whole career at @AsanteKotoko_SC in his home country Ghana, after turning down a move to Europe in his prime ???????? pic.twitter.com/l9cOcWh9ou

— FIFA Museum (@FIFAMuseum) February 13, 2023
Watch the latest sports video on GhanaWeb TV






JNA/KPE