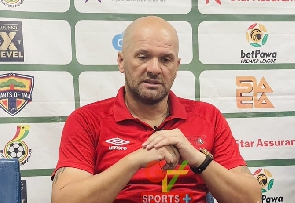 Hearts of Oak have issued a press release to set the records straight on media reportage on a case filed against the club at FIFA by former head coach Slavko Matic.
On Tuesday, several reports in the Ghanaian media suggested that the Accra-based club had been ordered by FIFA to pay the Serbian tactician an amount of $50,000 for the termination of his contract and some unpaid salary arrears.

But in its press release this evening, Hearts of Oak indicated that the figure quoted in the media is far from accurate.

The club noted that indeed it has been dragged to FIFA by former head coach Slavko Matic. It however indicates that FIFA only directed the club to settled the $14,000 owed to the gaffer.

"Accra Hearts of Oak has received a ruling from FIFA regarding a case brought against it by its former Coach, Slavko Matic.
"The ruling directed that the Club pay USD 14,002 as amounts outstanding for remuneration (prorated), reimbursable and 2 months breach of contract (after the supporters forcibly prevented him from training)," the Hearts of Oak release noted.

It added, "All other claims by Matic were rejected by FIFA. We wish to state that, the position of FIFA agrees with the Club's own position and thus the club had already proceeded to pay Mr Matic weeks ago the amount (less loans he took which he did not mention to FIFA).

"We have referred the matter to our Lawyers and will update the public on any further developments."

Below is a copy of the Hearts of Oak press release: