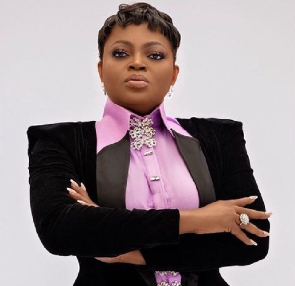 Nigerian actor Alexx Ekubo has received backlash for supporting Funke Akindele's political ambition.
Alexx declared that he is heavily backing Funke Akindele's mandate and is willing to go the extra mile to help her win the upcoming elections.

Alexx celebrated International Women's Day with an article on his Instagram page dedicated to Funke, describing her as resilient, consistent and full of the capacity to set goals and achieve them.

See some reactions of fans below:

Nmaijere: "We love Funke but we are voting Papa, Mama, Pikin this Saturday 11."

Dorisemmanuel30: "She is a good actress but might not be a good leader. Vote GVR."

Dan_nisimi: "We admire her courage, ambition and passion for Lagos but she is not going to be deputy Governor this coming year. At least not yet."
Edusonkanu: "If you are not contesting under LP we no need you just go and sleep."

Livinglife902100: "If she was the governor aspirant NOT deputy, then she would have had a chance."

Folagade_banks: "That's what friends are for! loveeet!!"

King_stangote_of_yenagoa: "I love Funke to a fault. However, na that fine LB Gubernatorial candidate dey enter Govt house‍♂️."

Check out the post below: