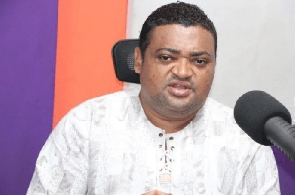 Mon, 8 Jun 2020 Source: Isaac Ganyo Tamakloe, Contributor
Former Deputy Minister for Youth and Sports Joseph Yamin has indicated that the Minister for Youth and Sports, Isaac Kwame Asiamah has failed and the coronavirus pandemic has further exposed his incompetence.
According to him the failure of Isaac Asiamah is all because of not convincing the government for stimulus packages for football clubs in Ghana.

He also claimed that if the Minister was competent, he would have lobbied parliament for support for the sector.

"Isaac Asiamah has failed as a minister for youth and sports. The COVID-19 has exposed Asiamah's incompetence level. If he has failed to convince the government for stimulus packages for football clubs then it means he is not doing anything.
"This is the time we will see the innovation part of the minister and this is the time if he cannot get money from anywhere he should have been able to convince the government that the football clubs are also doing business because they are also the same as the small businesses that they are giving them facilities to survive and they are also employing people.

"He should have putting things in place and be able to get people that are ready to contribute and support the clubs in this era."

"All work and no play makes jack a dull boy.In Ghana here it is obvious that football is our main sports." He added.
Source: Isaac Ganyo Tamakloe, Contributor