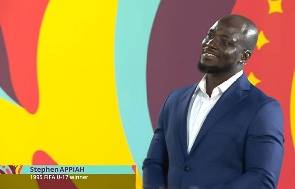 In a momentous event held today at FIFA headquarters in Zurich, former Black Stars captain, Stephen Appiah, took part in conducting the official draw for the highly anticipated FIFA U-17 tournament.
The draw was conducted by Jaime Yarza, Director FIFA Tournaments, with Stephen Appiah and Julio Cesar acting as assistants.

The Black Starlets did not qualify for the tournament which has been scheduled to take place in Indonesia from November 10 to December 2, 2023, where 24 countries will battle for the covetous trophy.

Although Ghana will not play a part in the tournament, Appiah, who won the U17 World Cup with the Black Starlet, was invited by FIFA to partake in the draw.
Africa will be represented by the U17 champions Senegal, Burkina Faso, Mali, and Morocco.

The tournament's opening match will be played between hosts Indonesia and Ecuador, while the group-stage draw also produced a tantalizing matchup between Brazil and England, the previous two tournament champions.