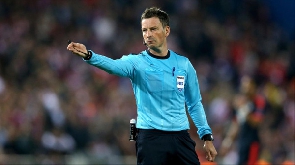 Former English Premier League referee, Mark Clattenburg has reportedly fled from Egypt as a result of gay allegations raised against him.
British newspaper The Sun reported that Clattenburg has left his role as the head of the referee committee in the country for safety reasons.

The 44-year-old had faced heavy criticisms from 14-time champions, Zamalek's president, Mortada Mansor, who labeled the Englishman as corrupt and described him as a 'bribe man' on television.

Clattenburg was also accused to have left his wife to be in a gay relationship, Sun's report claimed.

Mansor's intense criticism coincides with Zamalek's drop in form in the Egyptian Premier League which situation has pitted supporters against officials of the club.

The Egyptian football Association in a tweet on Wednesday, January 25, 2023, confirmed that Mark Clattenburg has left his role as head of referees.
"The Board of Directors of the Egyptian Football Association decided, in its emergency meeting today, Wednesday, to accept the resignation of Mark Clattenburg," the Egyptian FA tweeted.

Mark Clattenburg, who is married to Claire, assumed the role of head of referees in August 2022 after his departure from Saudi Arabia where he held a similar role.

He was reportedly on a £32,000-a-month salary.

EE/SARA