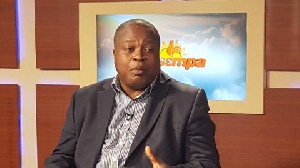 Former Ghana Football Association Vice President, Fred Pappoe says he was not surprised by the poor showing of the senior national team in the 1-1 draw with Congo in the World Cup qualifier.
Ghana were held in Kumasi by the Red Devils of Congo, leaving them third in Group E, five points adrift of Uganda the group leaders.

The Black Stars were poor the entire game and Fred Pappoe believes the level of the team has dropped, indicating something is fundamentally wrong with football in the country.

"It's a bit unfortunate with the development ongoing in the Black Stars, but it is not entirely surprising because for some time now our game has been going down with regards to our output on the field.
"I believe one of the major factors leading to this is that we refuse to properly identify the problem causing the current problems we find ourselves in. The desired result who have been looking forward to is not happening and bad results keep recurring and this should tell us that we are not getting it right,

"On all fronts thus technically, psychologically, motivation and in terms organisation, I think we are getting a few things wrong which is the problem," Pappoe told Adom FM.

The national team will travel to Congo for the second leg on Sunday.