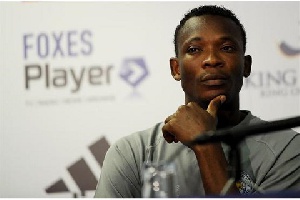 Wed, 8 Aug 2018 Source: The Finder
Former Ghana International, John Paintsil says his biggest regret in life is allowing people he considered friends to get so close to him that they eventually destroyed his marriage.
He says, these days his best advice to up and coming footballers is simple, "beware of who you call your friend and who you allow into your home".

Speaking on popular GH One TV programme 'Cheers', John who played in two FIFA World Cups said, he has become a bit skeptical of friends these days because of the bitter experience he suffered at the hands of some close pals.

"My advice to the young players is that they should be very careful who they call a friend and who they allow into their homes. The mistake I made was that I was very open and regarded most people as brothers but someone I call a friend sent a picture to my ex-wife while we were out and that started a whole lot of issues."

It will be recalled that in February, 2013 John Paintsil was held in Police custody for assaulting his wife and beating a neighbor, who tried to save the situation.
The ex-wife, Richlove Paintsil was reported to have jumped the Trasacco wall to her neighbour, ostensibly to escape the assault of the husband but Paintsil was alleged to have followed into the neighbour's house and handed a few slaps to the man holding the wife. It was reported that the wife went unconscious after sustaining serious injuries to her eye.

However, Richlove denied being stabbed and after a period of legal battle between the state and Paintsil, the case was cancelled.

The 37-year-old played for English Premier League side, West Ham United, Fulham and Leicester City.

Until recently, the Paintsil was the assistant Coach for South African Club Kaizer Chiefs.
Source: The Finder